Procter House
53 University Place
Princeton, NJ 08540
Home of the chaplaincy, chaplain, and family since the mid-1900s.

Drop in for a cup of tea or come for dinner Wednesdays at 6.30pm during term.

Call
609-252-9469 (office)
Last Sunday we celebrated our WONDERFUL seniors who have blessed us with their hearts the past few years. Today our PTS seniors are handing in their final papers and are getting ready to walk on to a new journey with Christ. Huge blessings to you all- and please, come visit. Special shout out to our two graduating interns! We appreciate EVERYTHING you have done this year. ECP GRADS RULE!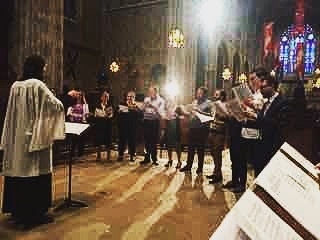 He is risen, indeed. Alleluia #tbt to Our Easter vigil service. Our greatest service of the year. Hope that you can come over and see for yourself next year... let's just say for now #ifyouknowyouknow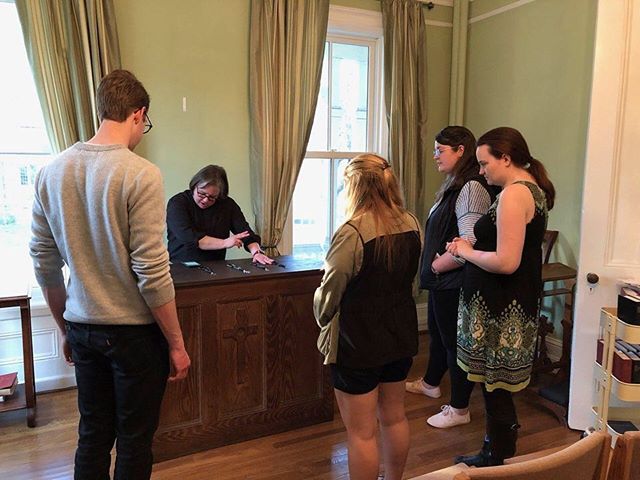 The end is drawing near! Who is stressed about final classes, exams & papers, work deadlines, summer—- all of the above? Come spend the evening with us! Our last weekly Eucharist is happening TONIGHT! See you at 6:00 @ Procter! AND BRING AN EMPTY BELLY, we shall feast one last time! #LETUSKEEPTHEFEAST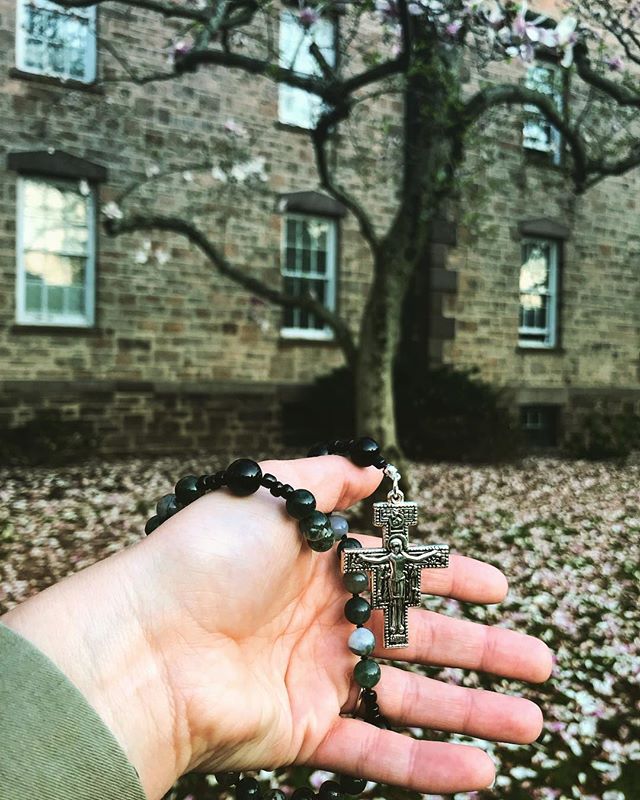 Jesus, remember me, when you come in to your kingdom. ECP hopes that everyone is able to spend some time today reflecting on what today means for you. For the early birds: 7 am service @ Trinity Church 12:00 service at trinity involving the stations of the cross leading up to the most significant hour, 3:00. 7:00p @ Trinity. Can't make it to a service today? Maybe spend some time reflecting on Psalm 22, or praying the 3:00 prayer! #ECPforJC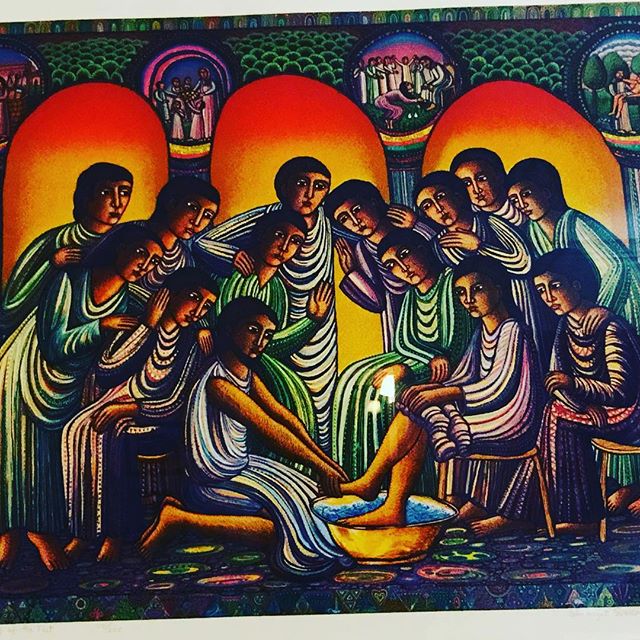 Have you seen this photo? It's hanging somewhere! Who can guess? The first to guess correctly will win a prize from ECP! Tonight's Maundy Thursday service will be at 6:00 @ Procter House! Hope to see you there!! #ECPforJC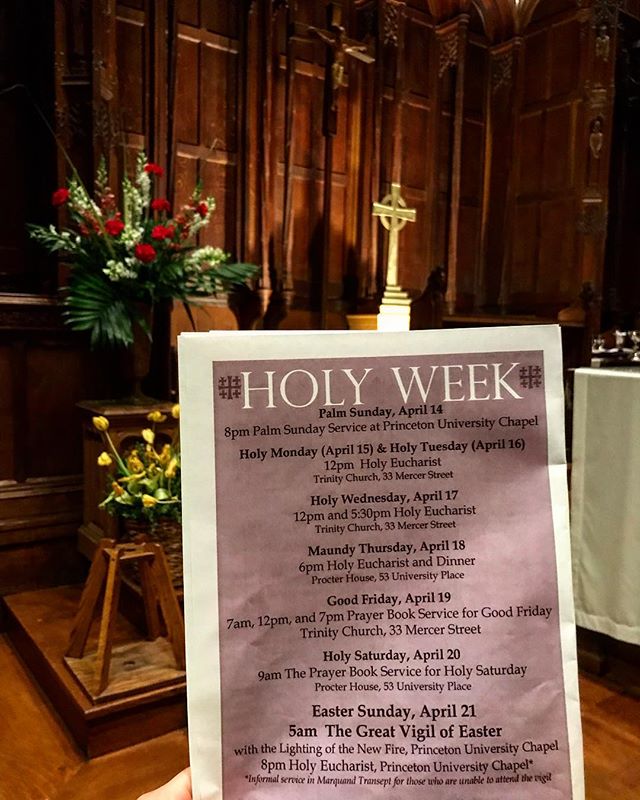 🚨IMPORTANT🚨 HOLY WEEK SCHEDULE: Monday & Tuesday: Eucharist @ Trinity Church, 12:00 PM Wednesday: Eucharist 12 & 5:30 @ Trinity Church Maundy Thursday: Eucharist and Dinner, 6:00 @ Procter House Good Friday: 7a, 12p, 7p prayer book service @ Trinity Church Holy Saturday: 9:00 am @ Procter House, Prayer Book Service Easter Sunday: 5a @ University Chapel with the great fire lighting & 8p said service in chapel @ university chapel! Come get your Holy Week On! &&& don't forget to tag us and use our hashtag #ecpforjc
HELLO ECP FAM, did you miss us? ECP had a short block on our account with a slight lock out, but we are BACK & better than ever. Or we could just say that we were helpful to all the fans that gave up social media for Lent!!! ???? A few things have happened that we'd love to share, and will soon be posted for a #tbt but we thought we'd keep you in the dark just a LITTLE longer for an epic come back of, drumroll, HOLY. WEEK. Yes, the big day is just 7 days away. & yes you guessed it, we have an epic Holy Week coming your way. A few things: stay tuned for posts this week on service times at either Trinity of ECP! If you attend, throw us a tag using our hashtag: #ECPforJC Finally, check out our insta story for some epic posts of our services! BLESS UP FAM, and thanks for loving us even during our Lenten darkness. (Get it?) #notplanned Palm Sunday service will be at 8:00 PM at University Chapel! #ECPforJC #episcopals #princetonuniversity #princetonuniversitychapel #holyweek #palmsunday PC: pinterest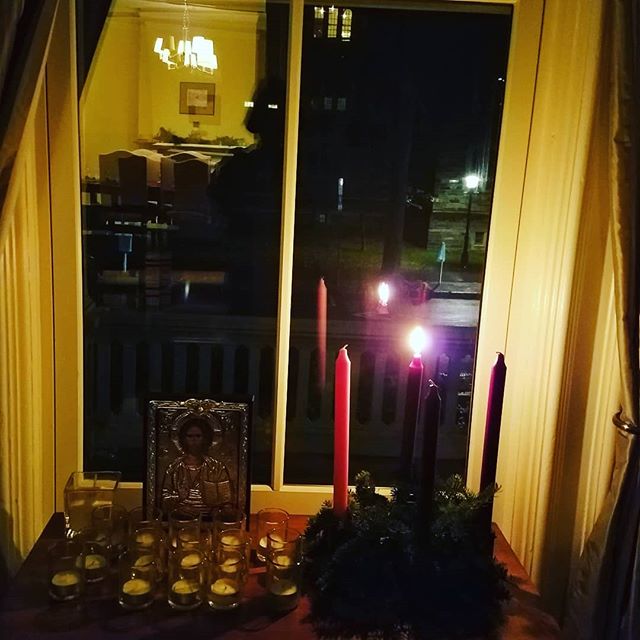 It's a new liturgical year! Join us tomorrow for Lessons and Carols at 8 PM at the University Chapel. #Advent #Episcopal #princeton #ptsem
Every Wednesday our interns get together and learn about the Episcopal church! This week they learned about the importance of music within the service! Here's something many overlook, there's more to the mass than just the words. WOW! Did you know that the organist works with the presiding priest to put together a service for the congregation?! They work together to have the music reflect the message of the service. The organist is basically doing an exegesis on the songs. He's working with the text to express the different emotions that are within the service. Guys, real talk, liturgy is pretty amazing. Our challenge to you: look, listen, and feel the connection. See how it all comes together! You can even do this challenge this Sunday at 8:00 PM at ECP! See you Sunday!